Conseil et expertise en systèmes d'information
Présentation
Publications
Outils / Tools
---
MPEG-TS Analyzer
You will need a Microsoft Windows system with the .Net framework version 2.0 installed for using it. In the following file, you'll find the binaries and the source code that can be edited with the free Microsoft Visual Studio Express IDE (VB.Net edition).
This application allows MPEG-TS stream analysis, here are the main functions:
Open multicast RAW over UDP MPEG-TS stream
Open multicast RTP over UDP MPEG-TS stream
Open .ts files
Multicast streams can be recorded as .ts files (with different options for splitting)
Show the used and unused PID with their description, bandwidth usage and main TS properties
Test if TS headers are correctly formatted and the packets continuity
Show PAT and PMT version updates
Screenshot: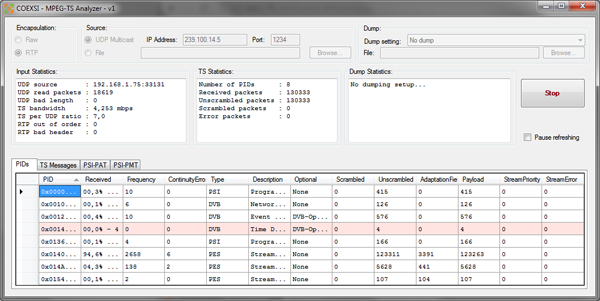 Download the VB.Net project and the binaries: MPEG-TS-v1.zip
THIS SOFTWARE IS PROVIDED BY COEXSI SARL ''AS IS'' AND ANY EXPRESS OR IMPLIED WARRANTIES, INCLUDING, BUT NOT LIMITED TO, THE IMPLIED WARRANTIES OF MERCHANTABILITY AND FITNESS FOR A PARTICULAR PURPOSE ARE DISCLAIMED. IN NO EVENT SHALL COEXSI SARL BE LIABLE FOR ANY DIRECT, INDIRECT, INCIDENTAL, SPECIAL, EXEMPLARY, OR CONSEQUENTIAL DAMAGES (INCLUDING, BUT NOT LIMITED TO, PROCUREMENT OF SUBSTITUTE GOODS OR SERVICES; LOSS OF USE, DATA, OR PROFITS; OR BUSINESS INTERRUPTION) HOWEVER CAUSED AND ON ANY THEORY OF LIABILITY, WHETHER IN CONTRACT, STRICT LIABILITY, OR TORT (INCLUDING NEGLIGENCE OR OTHERWISE) ARISING IN ANY WAY OUT OF THE USE OF THIS SOFTWARE, EVEN IF ADVISED OF THE POSSIBILITY OF SUCH DAMAGE.
---