Conseil et expertise en systèmes d'information
Présentation
Publications
Outils / Tools
---
IGMP Querier
Here are two small applications (one for Linux and one for Microsoft Windows) that make your PC work as an IGMPv2 general querier. This application is intended for testing multicast when using cheap switches implementing IGMP snooping but without the IGMP querier functionality (like Netgear GS108T).
Widows version
You will need a Microsoft Windows system with the .Net framework version 2.0 installed for using it. In the following file, you'll find the binaries and the (very simple) source code that can be edited with the free Microsoft Visual Studio Express IDE (VB.Net edition).
Once started, the application will use the first IP address detected in the computer as origin address (can be changed in the combobox) and will start sending IGMPv2 General Query message to 224.0.0.1 (all hosts). For reliability, the queries are always sent two times. By pressing the "Send now!" button, you can force the sending of the queries.
Screenshot: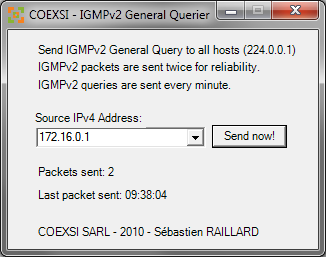 Download the VB.Net project and the binaries: IGMP-Querier.zip
Linux version
This Perl script is adapted from the work of jayshoo (http://code.google.com/p/perl-igmp-querier/) on Google Code.
The script will simply send two IGMPv2 General Query packets from IP address 10.10.10.10 (arbitrary set in the code - can be changed) to 224.0.01 (all hosts).
The script has to be scheduled (using cron for example) for being executed every minute. Here is a contrab example: "* * * * * root /root/igmp-querier.pl".
Download the Perl script: igmp-querier.pl
THIS SOFTWARE IS PROVIDED BY COEXSI SARL ''AS IS'' AND ANY EXPRESS OR IMPLIED WARRANTIES, INCLUDING, BUT NOT LIMITED TO, THE IMPLIED WARRANTIES OF MERCHANTABILITY AND FITNESS FOR A PARTICULAR PURPOSE ARE DISCLAIMED. IN NO EVENT SHALL COEXSI SARL BE LIABLE FOR ANY DIRECT, INDIRECT, INCIDENTAL, SPECIAL, EXEMPLARY, OR CONSEQUENTIAL DAMAGES (INCLUDING, BUT NOT LIMITED TO, PROCUREMENT OF SUBSTITUTE GOODS OR SERVICES; LOSS OF USE, DATA, OR PROFITS; OR BUSINESS INTERRUPTION) HOWEVER CAUSED AND ON ANY THEORY OF LIABILITY, WHETHER IN CONTRACT, STRICT LIABILITY, OR TORT (INCLUDING NEGLIGENCE OR OTHERWISE) ARISING IN ANY WAY OUT OF THE USE OF THIS SOFTWARE, EVEN IF ADVISED OF THE POSSIBILITY OF SUCH DAMAGE.
---